BASE MAP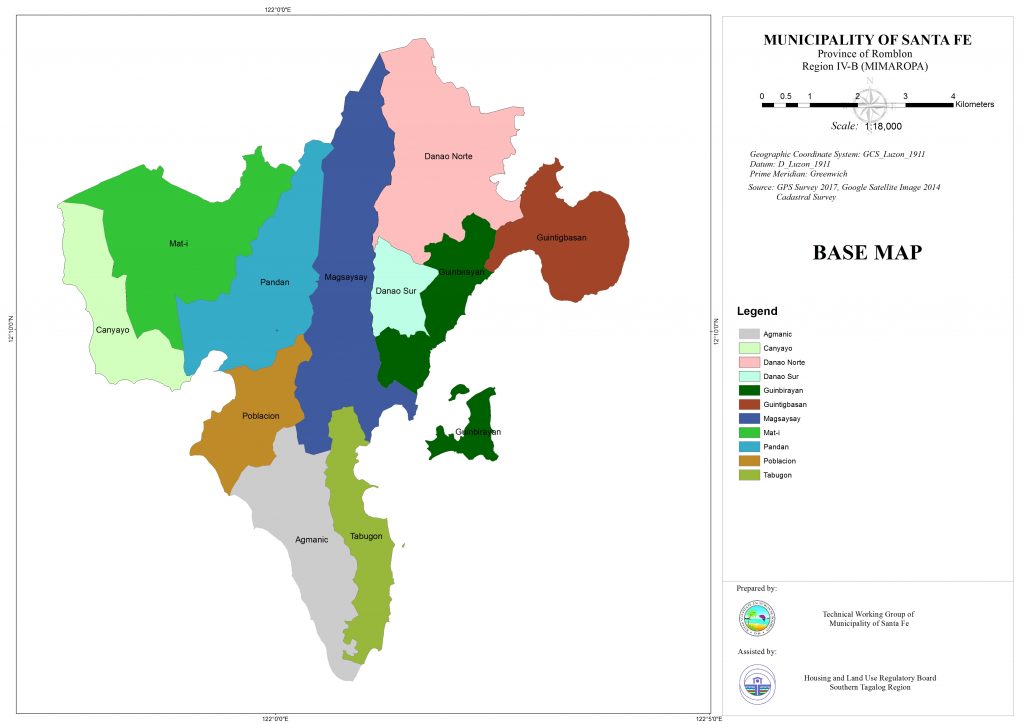 The Municipality of Santa Fe is one of the nine (9) municipalities of Tablas Island in the province of Romblon. It is a 5th class municipality located in the southernmost part of the island that is bounded by the Municipality of Looc on its northwest, Alcantara on its northeast, Tablas Strait and Santa Fe Bay on its west, and Sibuyan Sea and Guinbirayan Bay on its east and south.
Geographically, the Municipality of Santa Fe is situated at 12'9' latitude and 121'59' longitude with a total land area of 7,309.3437 hectares. It is composed of eleven (11) barangays, namely: Agmanic, Canyayo, Danao Norte, Danao Sur, Guinbirayan, Guintigbasan, Magsaysay, Mat-i, Pandan, Poblacion and Tabugon.
Poblacion
BARANGAY CAPTAIN:
DIOLETO M. GALLANO JR.
BARANGAY KAGAWAD:
HERMELINDO B. SARITO
MARK LUKE R. SANCHEZ
ROMEO G. ANTONIO SR.
SANDRO G. GONZALES
JESUS C. DE JESUS
NELSON C. CAHILIG SR.
ADOR D. SOLANO
BARANGAY RECORD KEEPER:
IMELDA E. GUSI
BARANGAY TREASURER:
NIÑO JOSEFINO R. SANCHEZ
BARANGAY SECRETARY:
ANNA MAE L. FLORES

SK CHAIRMAN:
JOHN CEDRICK D. CHAVEZ
SK MEMBER:
KARLA MARIELLE C. ADVINCULA
LARRY A. ANTONIO JR.
MARY JOY M. URBINA
GLEEN C. LORENZO
KEZIAH FAITH T. INOCENCIO
ANGELICA L. DEINLA
NELLA JEAN M. SOLANO
Agmanic
BARANGAY CAPTAIN:
ROBERTO R. SOLANOY SR.
BARANGAY KAGAWAD:
ELMER F. CONDES SR.
GLENDA B. DORADO
WALTER P. CAPISPISAN
RODELMAR T. VALENTIN
RIAN V. SOLANOY
JOERY T. VALENTIN
GARRY S. ANACLETO
BARANGAY TREASURER:
GLADYS C. BANDALA
BARANGAY SECRETARY:
AILEEN E. MALLA

SK CHAIRMAN:
JHOMAR T. SOLANOY
SK MEMBER:
RONEL C. ABANILLA
JESSIE E. TALAPI-AN
GLADEN ROSE V. CAPISPISAN
RAZEL T. TAMAYO
RYAN C. ELISAN
DIONESIO G. SARITO JR.
MONELYN G. VALIENTE
Canyayo
BARANGAY CAPTAIN:
NARRY T. GUSI
BARANGAY KAGAWAD:
DARWIN M. GAJARION
RUEL A. BUENAVENTURA
JIMMY G. SERASPI
WILFREDO A. LEOCADIO JR.
ARMANDO S. GERONIMO
NORBERTO R. GUSI JR.
DEO M. DIMACULANGAN
BARANGAY TREASURER:
ISABEL T. GAJARION
BARANGAY SECRETARY:
JANET F. SASTRE
SK CHAIRMAN:
JANET F. SASTRE
SK MEMBER:
RIZZA V. ESCASULATAN
CRESANTA C. SERASPI
MIE ANN S. VISCA
MARCK JOSEPH C. GABAY
Danao Norte
BARANGAY CAPTAIN:
RONALD F. SALVADOR
BARANGAY KAGAWAD:
JOEL M. MADRID
ELMALER F. DELOS REYES
RASLIE D. VICENTE
ELVER F. DELA CRUZ
FERNANDO G. MONTOJO
ARIEL A. ANDRES
BOBBY D. BANTANG
BARANGAY TREASURER:
JOCELYN G. GAMULAO
BARANGAY SECRETARY:
EVINEL T. MADAMO

SK CHAIRMAN:
RASLY D. MATEO
SK MEMBER:
DENMARK R. RELORCASA
MICHAEL F. ALFARO
Danao Sur
BARANGAY CAPTAIN:
FREDDIE T. MOLINA
BARANGAY KAGAWAD:
WINCIE E. TABUNA
MANUEL M. MACALISANG
ESPERANZA G. BADONG
ANAFE M. EVANGELIO
MELECIO M. GADO JR.
GINA V. CAWALING
DIVINA G. GALICIA
BARANGAY TREASURER:
JOEL T. MACHON
BARANGAY SECRETARY:
ANNALYN N. PRESTO

SK CHAIRMAN:
RYAN JAY B. MALACAD
SK MEMBER:
JASON D. TASIS
CRIS LEA JANE D. MALACAD
EUGENE G. BANTANG
LEO M. EVANGELIO
AIZEL M. FRUELDA
MARK RINZ M. EVANGELIO
Guinbirayan
BARANGAY CAPTAIN:
EUGENE E. MOLINA
BARANGAY KAGAWAD:
REM LORENZ M. GATARIN
PERCILITA P. GUYO
IVY S. GINOY
ORVILLE V. MADRID
RICKY Y. MONTOJO
DOMINGA G.MACABASAG
DOVE G. FRANCISCO
BARANGAY TREASURER:
NOVELYN T. ALOJADO
BARANGAY SECRETARY:
MILA I. VICENTE

SK CHAIRMAN:
HANNAH JEAN A. GONZALES
SK MEMBER:
Guintigbasan
BARANGAY CAPTAIN:
MELANIA G. ALOJADO
BARANGAY KAGAWAD:
EDDIE M. MADRID
FERMINA M. MACALISANGO
JOSEPH T. MOLINA
EDUARDO M. TIMBAS
ANNA LIZA M. MAGCALAYA
MENNIE D. PANAGSAGAN
ALEMAR J. MALLA
BARANGAY TREASURER:
FE Z. MADRID
BARANGAY SECRETARY:
DIANA G. MACALISANG
SK CHAIRMAN:
JOHN LOYD G. GALIDO
Magsaysay
BARANGAY CAPTAIN:
ASHER C. VISCA
BARANGAY KAGAWAD:
JAYSON JOHN T. JUNGAY
RESHA V. RUFON
RODOLFO M. MADRID
MODESTO M. GEGUILLAN
EDISON L. TAMAYO
ERIBERTO M. TRINIDAD JR.
GENALYN E. JUNGAY
BARANGAY TREASURER:
NENETH M. BAYONON
BARANGAY SECRETARY:
TERRY A. LUMUGDANG
SK CHAIRMAN:
JUDITH T. DIONESIO
SK MEMBER:
RICA C. JUNGAY
CHRISTINE JOY A. BERNARDO
MARK IAN T. CEZAR
LARA G. TINAO
XIANXA T. ELISAN
JACKILIN V. TIAGA
Mat-I
BARANGAY CAPTAIN:
HECTOR M. SIÑEL
BARANGAY KAGAWAD:
VIC E. VISCA
LEON C. SORIANO JR.
MARITES F. FERNANDO
GEDION C. ENORE JR.
PORFERIO G. GACUL
ELENO S. TUMAOB
RAMON A. SIÑEL
BARANGAY TREASURER:
BERNADINE D. MAGALLANES
BARANGAY SECRETARY:
MARIFE L. DIONISIO
SK CHAIRMAN:
RAM ALEXIS S. RELENTE
SK MEMBER:
ALISA MARIE C. FERNANDO
VIRGINIA G. MAGSIPOC
JENEVIE M. FILLARTOS
JERIC D. ORTEGA
MARY GRACE B. BANGALISAN
ANGEL PAULIN G. CRISOSTOMO
Pandan
BARANGAY CAPTAIN:
JOEY C. RUFON
BARANGAY KAGAWAD:
LIGAYA V. TIAGA
ALPIE F. LORENZO
MA. CONCERNA R. ROJAS
HELBERT F. VISCA
GENEBETH F. MADRID
MIGUEL E. VISCA
JONATHAN T. FERNANDO
BARANGAY TREASURER:
MARY ANN D. FLORES
BARANGAY SECRETARY:
PATROCENIO F. VISCA
SK CHAIRMAN:
NICA C. VISCA
SK MEMBER:
SUNSHINE I. ESPENIDA
KAITH JOY C. VISCA
REMUEL M. MAGCALAYO
PATIMA F. VISCA
STEVEN S. VISCA
JOEL F. MUSICO JR.
ARVIN D. FAIGAO
Tabugon
BARANGAY CAPTAIN:
JERIX T. COCHING
BARANGAY KAGAWAD:
MACARIO O. GUANTIA
EDWIN S. MENDOZA
JULIUS M. SARITO
MARITES P. FERNANDO
RICHARD M. CAWALING
RODGIN C. GAJISAN
EUGENE O. CASIMERO
BARANGAY TREASURER:
GERALDINE C. LOMUNTAD
BARANGAY SECRETARY:
MILA M. ARANA
SK CHAIRMAN:
ANJENICA G. PEREZ
SK MEMBER:
ETHEL .G TABUNA
CHARIE LOVE S. CASIMERO
JOYCE ANN L. BOLIVER
EUNICE KRISTINE T. SANTILLANA
ANGIE C. DAPOSALA
CHRISTIAN JAY T. NACUA